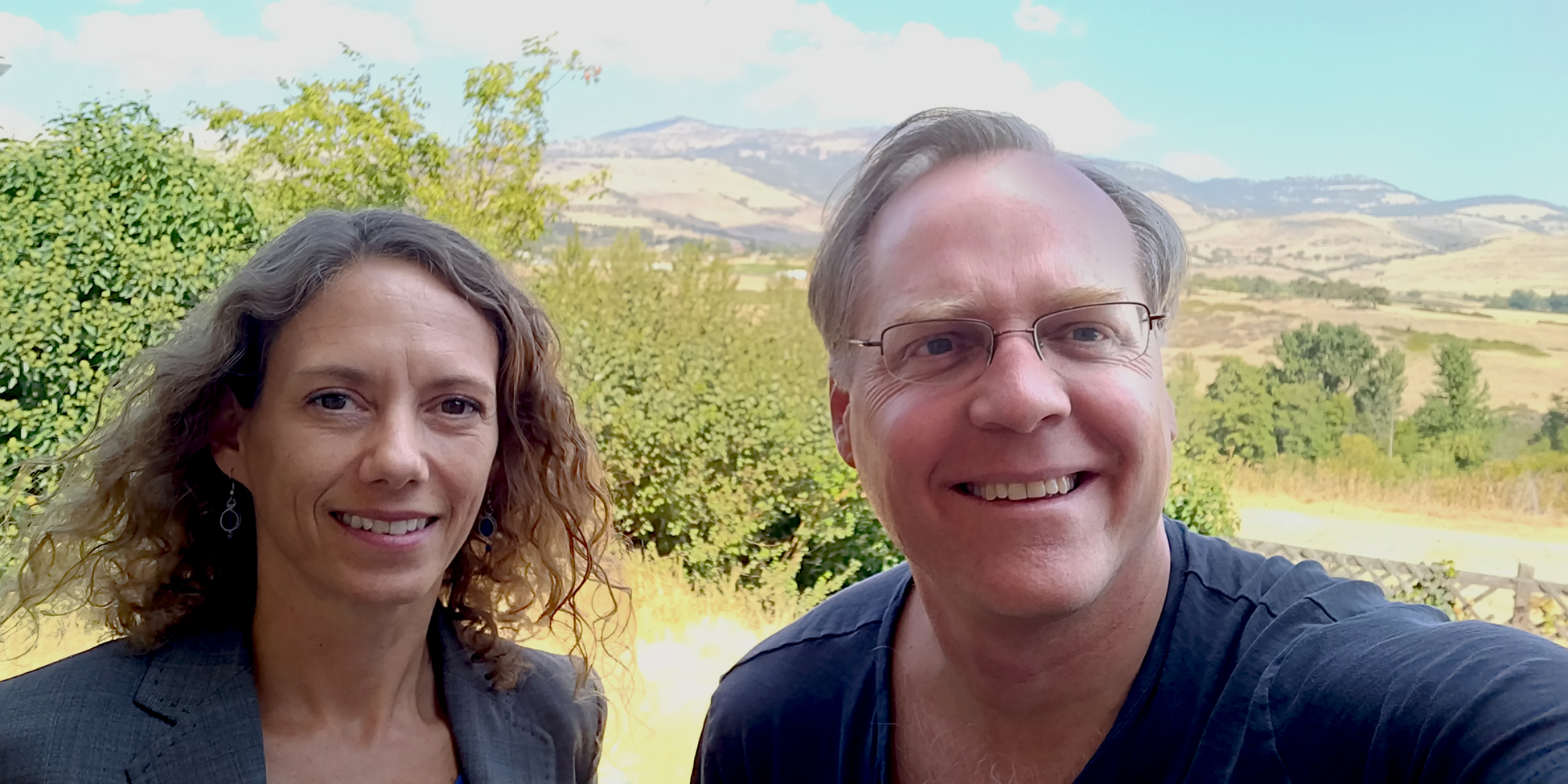 HLI Int18.003b
Heidi Gehman had some questions for Stephen about HLI. Heidi is a higher education administrator and former colleague of Stephen's at Oregon Extension. This is part of Stephen's conversation with Heidi about her work here.
Topics discussed in this interview
Integrated, whole self leadership
Self leadership
Fear-based vs. hope-based motivation
Impeccability
Wisdom jigs
Transcription:
SBS:
Will you introduce yourself, please?
Heidi:
Yeah, I'm Heidi Gehman and I have a PhD in Religious Ethics, and I'm interested in the idea of humane leadership.
SBS:
And where did we meet?
Heidi:
We met at the Oregon Extension, which is a tiny off-campus college program in the Cascade Mountains of Southern Oregon that is focused on a holistic educational process that has some similarities to the idea of being whole persons, no matter what context you're in, whether it's work or school or just being part of a community.
SBS:
Is that experience at Oregon Extension what makes you interested in humane leadership?
Heidi:
I think the experience of the Oregon Extension has confirmed my feeling that we need spaces to be completely who we are instead of being compartmentalized. Seeing the educational process of students who live and work and read and talk and think together has made it clear that when you're engaged on all those different levels, there's a lot more creativity and energy that happens. Regular jobs in the business world don't necessarily lend themselves to a humanistic or holistic way of being. How can we make it more integrated into human life? That's very interesting to me.
SBS:
That's really great statement about what humane leadership is about. That integration and that bringing by the leader of their whole self is a critical part of this. I don't think leadership is something that's done to you or by you, but leadership is a conversation that if we bring ourselves completely to, it can be really challenging but also really engaging. If we are only partial in our participation then things start clanking and rubbing and friction starts and damage is done.
Heidi:
Right, and I do think that bringing your whole self requires what I would call it is openness or even vulnerability, which is a word that's being thrown around a lot these days even in the business world. If you're not open or vulnerable, something is closed off but it's impacting what you do. It's a lack of awareness of what you're bringing to the table if you're not open. It all comes along with you one way or another and yes, then clanking starts happening and you don't even know what's causing it if you're not able to be self aware and bring it out.
SBS:
So either we deal with our stuff and we figure out how to be fully present and authentic, or anything that we repress–especially for a leadership position–is going to somehow be dragging along behind us and enter the situation one way or another, and the other way is probably not so elegant.
Heidi:
That's not to say everything always has to be out on the table either. An awareness of things that impact the way you lead or the way you react in the workplace, even if it's only in your own self awareness and isn't reported out there, is important. It's also important to try to reign some of that in. You can do that if you're aware of, "Oh, here I'm reacting like this because of this personal quality." That doesn't have to be aired out constantly. You don't want a therapeutic work culture in my opinion. On maybe some level you do, but I think you want a therapeutic self awareness that allows you to be a better workplace colleague and partner.
SBS:
I'm going back up here a second draw a distinction around humane leadership and the Humane Leadership Institute and what we're up to that's different from a lot of the things that are in the conversation right now in our culture. For instance, there's a lot of talk about mindfulness in leadership and in business and that's about being aware, and becoming self aware. But the Humane Leadership Institute is not about mindfulness, it's not about yoga in the workplace, it's not about ping pong tables, it's not about a therapeutic workplace.
What it is about is asking three basic questions and hosting a conversation around those questions. If you open your hand and you look at your fingers all these separate things are happening and they're all elements of being a more humane leader, but what the institute is interested in doing is asking some more fundamental questions about where all the fingers connect together into the palm of the hand. What is it about humans trying to lead each other that may be universal, that is beneath culture, so that people in India, people in Africa, people in New York, may all be able to share some practices and some insights. Really this is about hosting a conversation that's a pursuit of some deeper understanding, some deeper truth about how we can do this in a way that's more effective. Do we want to bring all of our personal problems into the workplace? No. Leadership is about making two humans more effective. If you and I want to do something good in the world, a little bit of leadership will help us more effectively collaborate. First you use the shovel and then I'll use the shovel. We won't both try to use the shovel at the same time. That's the most basic leadership model.
So the question we want to ask here is what is humane leadership and how would it work within ourselves? There's a hypothesis that we can't lead other people much differently than we lead ourselves. Every day we lead ourselves. Why did you get out of bed this morning? That was a leadership question. Was it an internal and hope-based reason, or was it an external and fear-based reason. That's an interesting experiment to run. That's the first question, how can we experiment with leading ourselves and come to a deeper understanding of what it means to lead a human?
And then we say, how do we work that into our organizations? Our organization may not be a very humane place. Our organization may have all kinds of challenges built into it. How do we start doing that within our organizations, whether that's a family, a nonprofit or a business or university or whatever.
The third question is what we learn with ourselves and within organizations, if we can come to some methods of leadership and models of leadership that really work for us, how do we work that into a larger culture? Our culture around leadership is becoming global with the translation of books and Google translate and everybody's looking to New York and London, and New Delhi and Tokyo or whatever for for leadership models. How do we take what we've learned about being holistic and humane with each other and spread that globally across generations, across cultures, etcetera? That's that's what is different about the Humane Leadership Institute.
Heidi:
The kinds of folks you're interested in inviting to participate in the initial brainstorming about humane leadership, how have you identified them? Is it with respect to the fact that from what you can see they're already doing a form of humane leadership? Do you have some kind of criteria that you used to look for people you want to draw into this initial phase of the conversation?
SBS:
At this very beginning stage, I'm using a very, very old model that I read about in Plutarch's Lives of the Greek and Roman Nobles. Lycurgus came back into the kingdom of Sparta, the city state, and the king was very ineffective. Lycurgus was a general, he said, this is not going to work. He thought, maybe we should have a coup, we should kick this guy out. Then he realized no, we need to bring people together. So he just started with those few people that he knew personally, thirty people, and he just went to them one on one, sat them down and said, do you think this is a problem too? Do you want to do something about it ? Maybe we should agree on this. He went to those thirty people, he got them all to go to the king, and he said, hey king, we think that this could be better, and we'd like to help you. If you're going to make a decision we'd like to review it with you and talk to you about it and then we can all decide together. Then you can make the proclamation and go. The king looked at all these like thirty most powerful people in Sparta and said okay, good idea. And the first senate was formed.
So that's what I'm doing, I'm just going person to person. You have personal experience with leadership that works, with leadership that is challenging, and you have all kinds of really interesting perspectives from your study that we'll get into. I'm going person to person and having conversations and that's led me to some amazing places already. Way will lead upon way.
In my model, everybody is leading all the time. Even the homeless person who is barely holding it together is just having a harder time leading themselves to what's really working for them than most of us.
Heidi:
It sounds like this idea of self leadership must be a collaborative process. For example, if you look at the homeless person and say they're trying to self lead but are struggling, how do they succeed in self leading? They need a network.
SBS:
That leads to a beautiful quick story about self leadership in the homeless community and interfacing with a bigger organization. There were tent cities in Seattle. The city of Seattle could not figure out how to take care of them. We call people homeless, but the homeless community is actually very diverse. There are a number of reasons that people are homeless–addiction, mental illness, disability, choice, they just had five bad things happen in a row and they lost their apartment and their job and everything else. What happened was the city was immobilized because they're used to dealing with big things and they couldn't deal with crazy Bob and addicted Jane. What they did there didn't work. So in one of those tent cities somebody said, hey everybody, can we organize and try to get some toilets, and try to get some police coverage down here so that we can sleep at night and not be robbed, and can we get a hand washing station and the right to use a shower? Everybody said, yeah go ahead. So he went to the city and said, we are this community and we need this. The city said, oh thank god yes. We can help you.
They organized themselves. I met a wonderful young man named Bradford who is managing a project to create tiny house villages for homeless people in Seattle. Each one of these has a self organizing government that has night security, a foreign minister who deals with the city and deals with the police, and they have a leader, they have a community organizer, they have a care committee for someone who's in a really challenging situation. It's amazing to see leadership emerging from this very diverse community.
Humane Leadership Institute is about taking the wisdom and the learning about how that worked and handing it to bankers, and handing it to people at the UN, and handing it to other people so we're all learning how we can do this really well together.
Heidi:
Why are you interested in this? Creating a Humane Leadership Institute is very humanitarian in its efforts, but it's also maybe a job for you or an engaged way of being in the world. But what is your background? What is at the heart of your concern in this project?
SBS:
Thank you for asking. I grew up in a complicated household as a sensitive kid. I became quite shy when I was in high school and I made a decision–I read a book about setting goals–and I made a decision I was going to do something different in my life. I started trying things. I led myself first in a very mechanical kind of way, setting goals and really holding myself to it. That worked super super well. I did that for twenty years. Then I found myself standing on the deck of this house that I had built on the water looking at the boat that I had out in front, it was like a dream. I had made it all real. And I was completely miserable.
I ended up selling all of that. But I learned something along the way. In college I studied history, and I didn't want to be a attorney and I didn't want to be a teacher. I learned in history that leaders can make a difference, so I figured I would learn how to lead groups of humans. That was my decision. I ended up buying a business and that was my little laboratory. I tried it out. I tried a lot of different stuff and I read a lot of stuff. I realized I did a lot of things that were kind of mechanical and not super nice but that were effective in some ways.
Over the years, I learned to be kind to myself. I've learned a lot about myself and other humans. Having kids obviously helps that. Then I looked around and realized that the world wasn't necessarily going the way that a lot of us thought it could or should. I wondered, where is the conference where all the humane leaders are coming together talking about what's next, because our current models of optimizing for profit and optimizing for power, they don't seem to really be serving most of us. I googled "humane leadership" and not too much came up, the normal mindfulness stuff, how to lead a humane society. I looked at who owned the URL "humaneleadershipconference" and nobody did so I bought it.
My assumption is that if you look at every problem as a leadership problem, then you have something you can do about it. I thought, I'm the leader who owns humaneleadershipconference, I should do something about it? So I started talking to people. I built website and started having conversations.
[In the end, we found some other conferences and we didn't want to their duplicate efforts, so we changed our name to Humane Leadership Institute and wrote a book. -Ed.]
Heidi:
Would it be fair to say that your basic concern is to provide resources for people to create workplace dynamics that allow for human flourishing at the same time as looking at profitability? The primary concern being, we all have to work to sustain ourselves, but you've had lots of different experiences of even with your own choices, setting yourself up so that you're sustained economically but not necessarily in any other way. You want to see people have the opportunity to work in situations where full flourishing or near to it is possible for everyone from the leaders on down to the person with the shovel.
SBS:
That's right. Flourishing as a complete human. It's easy for us to get very into our heads, sitting at our computers. Really this is about our bodies and our hearts, what we care about, and our minds. Being a complete human is a pretty magical privilege, so let's do it. My hypothesis that I really want to test is I believe that if we do this well, that we can actually have greater performance, we can do more good in the world with our own lives and time here than if we break ourselves up into these particles and ask our brains to sit at a computer eight hours a day and ignore our bodies and what we really care about. That's the theory that I want to test.
I believe it's true in my own experience. I believe I am more productive of meaningful good when I address the whole of me. Is that your experience, too?
Heidi:
I think it's maybe the basis of hope for that. I've personally just been floundering a bit in the face of environmental issues, which of course I have been aware of for decades, but somehow having breathed smoke for two months of the summer, and hearing the debates about climate change, as dramatic as it all is, it still feels like nothing's being done. It's hard not to get demoralized about the possibility for acting together.
I deliberately went out in a sort of self leading effort and got a few books that were about more of the hopefulness of the environmental movement. The basis of some of that hope is the kind of energy that gets created around feeling like we're coming together with common concerns and because of that can do something about it, involving our whole persons instead of just saying we're going to technologically fix this or we're just going to spiritually hope something intervenes. It's the idea that we can make a difference but only if we all come together around the issue.
Some of the books give examples of that happening in smaller community settings. Some of the dynamics going on in that sort of activism may be applied to the idea of humane leadership in the sense of creating meaning around a cause. Sometimes a workplace cause isn't going to be necessarily aligned with some deep meaning or value. But there's got to be other ways of engaging a person as a whole person, even in those kinds of corporate cultures.
SBS:
I would say that it's up to the leadership to find out the why. This is Simon Sinek's great thing, you start with why. Let's say Exxon Mobil. There is purpose there. There can be purpose there. Are there consequences to what their business does? Yes. I actually talked to somebody on a consulting job in the oil industry and they said, yes of course oil companies are doing this. But to the person in India whose parent just died of lung cancer because they've been cooking with wood their whole lives, natural gas seems like a really great improvement. It's important for us as privileged people in the west to know that there are other people who are really struggling with very simple problems.
You mentioned something I'd love to touch on. You were losing hope. It was a hard summer here in Ashland with all the smoke, so you took your self-leadership step which was to intentionally rekindle your hope. You do that with books. I did that by leaving and going to Seattle and Orange County. But that is the nature of self leadership to say, what do I need so I can be more effective and so I can be more engaged? We start asking ourselves that question. We can do the same thing with climate activism and say what can I do? I can start by doing x y and z in my own life and the I can reach out and connect to those other people who are doing that and put my shoulder to the wheel with everyone else.
You reminded me that hope is hard to keep alive sometimes, especially in the face of all the evidence. The whole media machine is pretty focused on finding the drama. The antidote to cynicism–and lack of hope leads to cynicism–is impeccability. If we look back into our own self leadership and say, there is hope because I can do something, I can ride my bike today instead of driving. That's going to be my little bit of impeccability. I'm going to start buying bulk instead of buying packaged things to save some transportation costs. Whatever those things are that we can begin to do. That is one of the core opportunities of self leadership. One of the first things we can do is say, how could I be five percent more impeccable today than I was yesterday? That's where hope will come back from and will grow from, that seed.
Heidi:
Is that one component of, or an example of the kind of basic tools you hope to provide once you have the leadership forum going? The whole idea of humane leadership seems like it's going to be incredibly complex and multi-layered. What do you hope to provide, say five years down the road when someone clicks on the website? What can they find?
SBS:
Today we have a few things that I call Wisdom Jigs. We find wisdom all around us. The Great Books are full of great ideas of how to be human and we're discovering things in Indian culture, in yogic practices, from religious traditions. But how do we train our brain to use that wisdom? With a woodworking jig, you set up a thing that will hold your wood in relation to a saw so you can create the same piece again and again in a nice, efficient way. So a Wisdom Jig is a little tool that helps you think through a wise process and lets you internalize it.
If I see that Marcus Aurelius has come up with something really great, or Jesus or Ghandi or whoever, some really wise way of looking at something, I can make that into a tool that will let you think in the way that they thought.
I do believe that humane leadership is as complex as the entire universe. That's why I'm focused so much on the human individual and what they can do within themselves and how they can experiment with their own self leadership as their own private laboratory. Wisdom Jigs are a way to do that. Say I'm facing a decision that requires courage because there's ambiguity and I'm not sure of the right way. How did Marcus Aurelius think through that as a Roman Emperor and General? He had to make those decisions. He wrote down his method, and I've turned it into a form that a teenager can use to think through, should I go to that college or this other one? It will help them to think like a Roman Emperor. I think if we do that as individuals and then we organize ourselves into companies or churches or whatever, then better results will come, a better experience will come. The complexity will unfold out of the simplicity. It's a fractal. If we design that core crystal really well, all the crystals that emerge from it will also be beautifully formed. That's my hope.
Heidi:
It will take people who are already interested in growing in this way to come to the website or read the book and then it will go on from there.
SBS:
That's the amazing thing about this moment is that we have this technology to record a conversation inexpensively, we can distribute it globally in minutes, and if somebody finds it resonant they can share it, and it can go across the world in minutes. If we get the core fractal correct and really clean, it can expand as quickly as electrons can move.
It's kind of an amazing moment, it's a very hopeful moment, but we have to be impeccable in terms of the clarity and the cleanliness with which we create these ideas. That's why I don't want to do this alone. I want to be in conversation with other people who are sensitive to these values and want to be engaged in the conversation.
SBS:
Thank you, Heidi, for joining us here.
Heidi:
Thank you, Stephen.