The mechanic that would perfect his work must first sharpen his tools.

— Confucius
A leader depends on her ability to think clearly and creatively.
How do we sharpen our minds?
If you want to teach people a new way of thinking, don't bother trying to teach them.
Instead, give them a tool, the use of which will lead to new ways of thinking.

— Buckminster Fuller
We created wisdom jigs to help you and your team improve your thinking, transform your performance, and create winning new habits.
Wisdom Jigs: Tools to Improve Thinking
(Excerpted from chapter one of the book, Humane Leadership)
jig n. A device that holds a piece of work and guides the tools operating on it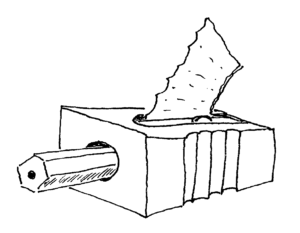 A jig is a tool to help you produce an intended result, to eliminate variables of position, angle, etc. The handheld pencil sharpener may be one of the simplest jigs you've used. The sharpener holds a blade at a precise angle and depth relative to the pencil lead and casing. Simply twist and you get a sharp pencil consistently.
Wisdom Jigs mentioned in the Humane Leadership book are free to download and use for your own, non-commercial purposes, see details below.
These tools are provided as pdfs so you can print them and do your thinking live on paper. I find that technology tends to distract me from the introspection, deep analysis and creative thinking the tools ask of me. If I need a digitized copy of what the Wisdom Jig captures, simply take a photo or scan the document.
Chapter 1 - Introduction
Chapter 2 - Humane Performance Improvement
Chapter 3 - Performance Improvement Meetings
Chapter 5 - Leaders' Challenges
Chapter 6  - Others' Challenges
Chapter 7 - Motivation's Roots
Chapter 9 - Opening Opportunities
Chapter 10 - Clarifying Expectations
Chapter 11 - Amplifying Abilities
The Humane Leadership book provides detailed instructions on using these wisdom jigs to bring clarity to your thinking and humane effectiveness to your leadership and performance improvement efforts.
Crisis Leadership Wisdom Jigs
Mindful Leader Wisdom Jigs
We support your humane leadership journey using these jigs via our advisory services and trainings as well.
Use these tools for good
These Wisdom Jig thinking tools are free for your personal use under the Creative Commons Attribution-NonCommercial license - CC BY-NC.
So, use them for your own benefit, but, give us credit and link back to our site if possible if you write or publish things about them.
Do not resell them as your own, that's against the spirit of the Creative Commons and is generally uncool.
To learn why we offer these tools for free, check out our values.